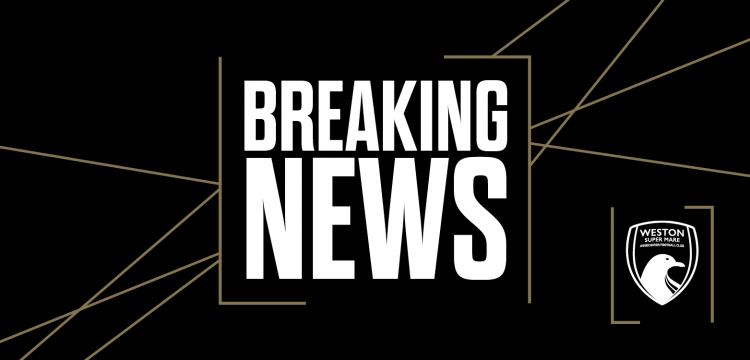 DAYLE GRUBB RETURNS TO WESTON
Club legend Dayle Grubb has returned to The Optima Stadium on a four-year contract following a two-and-a-half year spell with Forest Green Rovers in the Football League.
Manager Scott Bartlett said:
"This is obviously a fantastic signing and I'm really pleased to be able to bring Dayle back to Weston-super-Mare.

"Grubby needs no introduction and I am delighted he has decided his future lies back with his home town club.

"We have had a stroke of luck with this one as his move to us coincides with a relocation back to the area and his plan to work here outside of football.

"Dayle was brilliant for Forest Green and quickly established himself as one of the best attacking players in League Two.

"We were staggered initially that he was without another league club but these are difficult times for clubs and there are many players like Dayle considering their options outside of the professional game.

"We have had to be patient and respectful in waiting for him to make such a big decision because he had some good offers in the EFL, and National League pyramid. He has looked at the bigger picture in terms of his overall future in and out of football.

"In all honesty we didn't think we would get him but like with Lairdy last season and Keiran Thomas and Jacob Cane recently, if you don't ask you don't get and we hung in there, chipped away and eventually wore him down with our enthusiasm and a bit of love.

"Clearly the length of contract was a big factor for Dayle in an otherwise unstable industry and I must give credit to the board for allowing us to get this done.

"Like we have said many times before, we can't and won't compete financially with everyone and anyone that comes here does so within our pay structure.

"Lairdy and myself are fortunate that our club is so well run that we can offer stability which is important to us as management and our players.

"I'm sure you will join me in welcoming Dayle back to the club and hope you can see us in action ASAP."
On returning to his hometown club, Dayle said:
"It's been a long process but I am delighted to be here.

"There was lots to think about, I'd worked very hard to get into the EFL and had established myself so I had a lot to consider before moving back to part time football.

In the end it boiled down to looking hard at my long term future, I know the gaffer and Lairdy well and Weston-super-Mare is my club.

"I was always prepared to listen to what they had to say. I have been considering different offers and options whilst doing pre-season with the squad and I'm looking forward to getting back to it."
About Dayle
Grubb began his career in the Bristol City academy, leaving them at the age of 16 in 2007.
He linked up with the under-18s side at Weston straight away and went on to captain the youth team in 2008-2009, winning the under-18s Player of the Season as well as the Somerset Floodlight Youth League Cup 2009.
He began to break through into the Seagulls first team under Andy Gurney during the 2008-2009 season while captaining the under-19s side, and made his mark under Craig Laird before taking his performances to new heights under the stewardship of Mickey Bell, Ryan Northmore, Scott Bartlett and Marc McGregor. The goalscoring winger was part of the Somerset Premier Cup-winning side in 2011 and 2012, as well as winning supporters' Player of the Year in 2013 and Players' Player of the Year in 2016. The winger also captained the Seagulls during the 2015-2016 season and wore the armband in periods of the 2016-2017 and 2017-2018 season.
His incredible form during the first half of the 2017-2018 season saw him included amongst the likes of Christian Doidge and England international Harry Kane as one of the top scorers in English football. During his first spell with his hometown club, Grubb made 360 appearances and was an unused substitute 33 times, scoring 95 goals and getting 105 assists.
The winger was given his big break in the Football League with FGR, officially joining the League Two side in January 2018 where he went on to make 72 appearances and be an unused substitute nine times, with 12 goals and nine assists coming during his time at The New Lawn.
He did find himself spending a three-game period on loan with National League side Eastleigh having joined them in February 2020, however the COVID-19 pandemic brought football to a halt before Grubb could hit his stride there.
His FGR spell was brought to an end in June, when he found himself released following the expiration of his contract.
The club are delighted that Dayle has returned to The Optima and we wish him all the best during his time with the Seagulls.