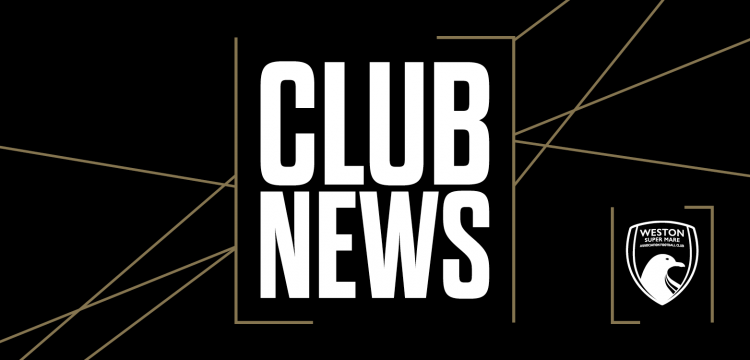 SEASON TICKET HOLDER MATCH DAY INFORMATION
We would like to offer our thanks to each and every one of our 2020-2021 Season Ticket Holders for their continued, or new, support of Weston-super-Mare AFC by being a Season Ticket Holder.
As the Home League game season is about to begin, we wanted to update you with information you will find useful before the first game.
Car Park
We do apologise should you have attended one of our pre-season games that you were not able to have used the exclusive Season Ticket Holders Car Park, this has been down to various reasons, but we do offer our apologies to you.
However, starting from our first Home League Game of the Season against Metropolitan Police on Saturday 26th September, we can confirm that this car park will be back open for your use.
We have ordered a batch of Season Ticket Holders Car Park Passes 2020-2021 and they are due to be delivered on Wednesday 23rd September, unfortunately there were some initial delays so we have changed things this season in that they will be in the form of a business card. These will be available for you to collect from the Players/Officials/Season Ticket Holders entrance on your entry to the ground on Saturday 26th September.
To gain entry for that first home league game we will be accepting last year's 2019-2020 passes, or if you do not have one the steward will let you in if you show them your actual Season Ticket Card. This will purely be for that one game, after then you will need to collect your 2020-2021 Car Park Pass, if you have not already done so on 26th September, from the Bar office, before attempting to use that car park.
As you will be very aware the car park is not the largest and does fill up rather quickly. Should the exclusive car park become full, please do not double park or block access points, instead please make your way back to the standard supporter car park where you are able to park free of charge still.
Please Note:
The Season Ticket Car Park Pass 2020-2021 allows you free parking at The Optima Stadium on First Team Match Days
Pass must be shown on arrival, failure to do so will result in you being charged normal parking fees.
Exclusive parking area or free parking in normal car park.
Please DO NOT park in coned off areas or you will be asked to move your vehicle. These areas are marked off for Emergency Service vehicles ONLY.
Track & Trace
It is imperative that you swipe your season ticket card to gain entry. As your details are securely recorded on our Season Ticket Database there is no requirement for you to complete the Trace & Trace signage. Should your season ticket "Fail" only then will the Steward at your entry point then ask you to complete the Trace & Trace process.
Turnstiles
Your entry point into the ground will be via the Players/Officials/Season Ticket Holders entrance, whereby you will swipe your season ticket to gain access. We will be having to do a manual count of those entering so we would ask you bear with the Steward on the entrance while they "click you in".
Should you have any issue on a match day with your season ticket card failing please notify the Steward on duty, who will take your name and card from you, we will then endeavour to produce a new card for you to be able to collect from the Players/Officials/Season Ticket Holders entrance at the next Home League game.
Social Distancing
We do remind all supporters it is your responsibility to maintain current UK Government Social Distancing guidelines while you visit The Optima Stadium. This includes all areas of the ground, inside and out, along with the seated areas.
Match Footballs
We do ask that supporters refrain from throwing any balls that leave the pitch and enter the supporters areas back on to the pitch. A Steward or Ball Person will instead make their way to your location, gather the football and return to the Home Dugout so that it can be cleaned before going back on to the pitch. When balls leave the pitch in this manner the Home Dugout will be throwing another ball on to the pitch for the continuation of the game.
Facilities within Ground
Our Somerset Suite Bar, Kitchen and inside ground Joe's Bar will all be open. Card payment can be made at all three locations. All three areas do have ground markings detailing the social distancing requirements. The Somerset Suite can only hold at any one time 50 people.
At busy times, such as half time we will be placing Stewards in these locations to remind supporters of the current social distancing requirements.
Club Shop
Unfortunately, due to current guidelines affecting people trying on clothing, the Club Shop located at The Optima Stadium have made the decision to remain closed. Obviously they are reviewing as UK Government guidelines change over time.
Player Tunnel Gates
Due to current requirements to close these, for the players entry to the pitch and return from the pitch during their pre-match warm-up, there may be a slightly longer period before the game where these will have to remain closed. We do apologise in advance for this. The Stewards will open them as soon as it is deemed safe to do so. They will also be closed for a period at the beginning and end of Half-Time and also at the conclusion of the game.