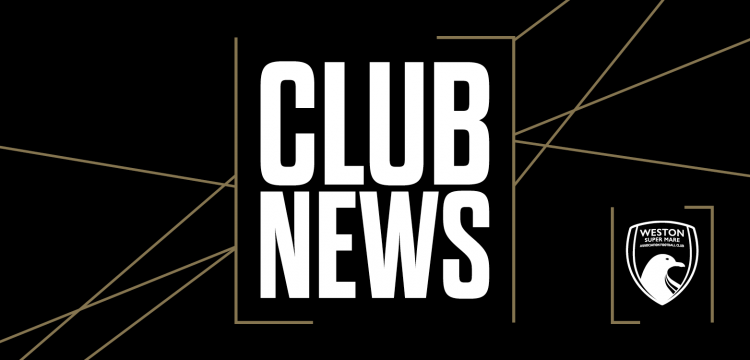 WsMAFC BOARD UPDATE 3/8/2020
OLI BLISS, MANAGING DIRECTOR
It has been several weeks since we last updated our supporters on progress at Weston-super-Mare AFC.
We have been waiting to receive confirmation of when we will be allowed fans in to watch the games but this has not happened yet and with the recent setbacks and the government advice to hold back the easing of certain lockdown restrictions, we feel that we need to give you all some more information.
Pre season friendlies have been booked in for the following dates:
7th August – Bridgwater Town (A),
8th August – Banwell (H),
15th August – AFC Totton (H),
22nd August – Clevedon Town (A),
24th August – Slimbridge (A),
1st September – Cinderford (A),
5th September – Bath City (H),
8th September – Yeovil Town (H),
12th September – Hereford FC (H).
These have only just been finalised due to all the clubs involved waiting to find out their season start dates. We hope that fans will be able to attend our last three friendlies but we will have to wait and see how this develops over the next few weeks. We can confirm that the first friendly against Banwell on Saturday 8th August will definitely be without fans.
We will confirm the ticket price for these friendlies as soon as we get any confirmation of the fans being allowed to watch. We will then also inform anyone who has donated via our JustGiving page of which friendly we will be doing that offer for. We are grateful for all your donations, the page is open and we have reached £3,884. We are still hopeful of reaching £5000, so if you are still able to donate then this money is being used to make ground improvements, you will see the extra work that we have done on the main pitch, it is looking perfect. The kitchen for the ground has now got a new serving hatch and we are also starting work on the PA system.
Season ticket prices have been set and as a thank you to our loyal season ticket holders from last season, who have supported the Club through this pandemic, we have introduced a special reduced rate offer for you to renew this season, the prices are-:
Reduced rate 2019/20 Season Ticket Holder Price
Adult – £140
Concession – £100
Under 16 – £25
Family – £200
Standard 2020/21 Season Ticket Price
Adult – £165
Concession – £120
Under 16's – £35
Family- £250
Again as soon as we know when crowds are going to be allowed and what the ground capacity is going to be, then we will be able to put these tickets on sale.
I am sure you are all aware of the new season start date that has been set as the 19th September, Scott and Scott have been working hard to move the pre season training around to suit this new start date and you will see from the teams that we are playing in the friendlies and the dates, that we are very well organised here.
The squad is looking strong and settled, we have a bit more experience in the team this year and this is now a squad that the Scotts' have had the chance to put together over the past 12 months. We are very happy with the recent addition of Jacob Cane, it is great to have him back at The Optima Stadium. If the season started this Saturday, we would be ready to go but we are still looking to add one more player.
I hope everyone is keeping safe and I look forward to seeing you at The Optima Stadium, hopefully some time in September.
Best Wishes,
Oli